Software options for making forms, or commonly known as form builders, save your time, money, and energy because you do not need to acquire specific web designs for this part of your business website. As soon as your form is done, and your setup of it is finished, in combination with your landing page, and other web design principles, with adequate SEO to increase your visibility, you can sit back and wait for the information to arrive in your inbox.
Online forms are very important because they identify your customers with their needs, which will make it easier for you to determine what your consumers are looking for.
What Are Form Builders & Why Use Them?
We can freely say that forms can be one of the most effective ways to collect data about your potential customers, of course, all to better understand the needs of your clients. What is interesting, if you use WordPress – you will use Form Builder much easier and faster, without any coding. On the other hand, if you use a static-coded HTML site, you'll still have to get a little more involved.
How To Create a Proper Form?
Before we advance, let's look at the most basic steps on how to create an online form:
Identify your goals
Whether it's just collecting and adding contacts to your email list, or generating potential clientele, first, you need to identify your goals. This means when you find out what you want from your clients, you will be able to determine what information you can get from them on the Form.
Choose a form builder tool
Most of the online form tools are free or affordable, yet might not have all the features you would like. For instance, some might not fit well on the site you're using thanks to your CMS (Content Management System). In the meantime, others might not hook up with your email marketing software or CRM (Customer Relationship Management).
Request demographic information
If you want to create a Form to generate your potential customers and in the form of creating an image of who they are, consider asking a few specific questions such as location, gender, age, etc. On the other hand, if you just want to add people to your email list, you probably won't need this information.
Ask for contact information
It is obvious that at some point you may need to get connected with a possible client or leader, hence, please bear in mind that you must request a certain amount of contact information.
Depending on whether someone signed up for your marketing newsletter (they probably won't give a lot of information, maybe just an email address) or they want something more, for instance, to get a product demonstration, in that case, they are more likely to leave more information, such as phone number or address).
The Best Form Builder Tools
To help you create online forms, we've put together this list of the best and most effective online form builders (Free & Paid):
Google Forms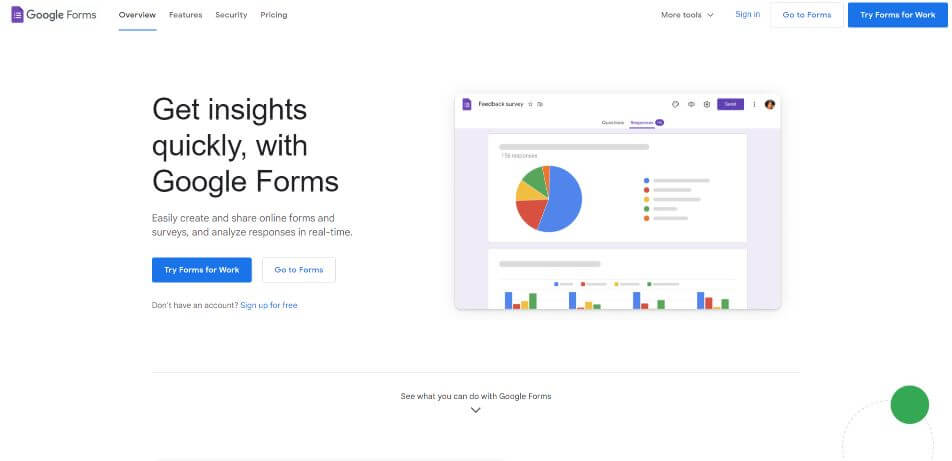 Since this tool includes templates and components you can create forms, surveys and everything in between with ease. Besides that, responses are automatically collected and stored in Forms for further analysis using Google Spreadsheets, which is quite nice.
Note: With Google Form, you can add multiple choice questions, plain text fields, and more. The software also allows you to feature images and embed YouTube videos, which is very cool.
Price: Free
HubSpot Builder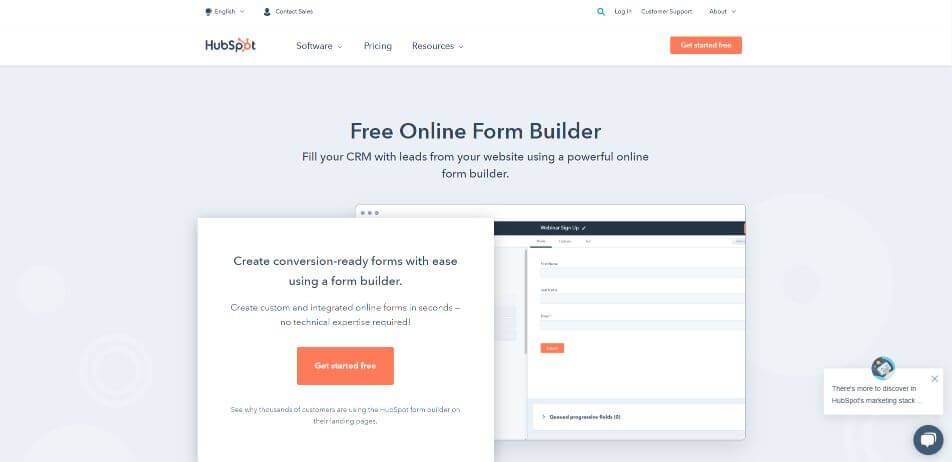 HubSpot's online form tool is perhaps one of the most powerful form tools available. The tool combines the fundamentals of form creation with state-of-the-art technology to grant you a lot more options than a traditional online form creator can, and it is also free.
Note: With the HubSpot form creation tool you can configure notifications for users who need to submit information. The software also supports a bunch of field types, all of which you can add to your forms.
Price: Free (you can get access to advanced features for $ 45 per month)
Typeform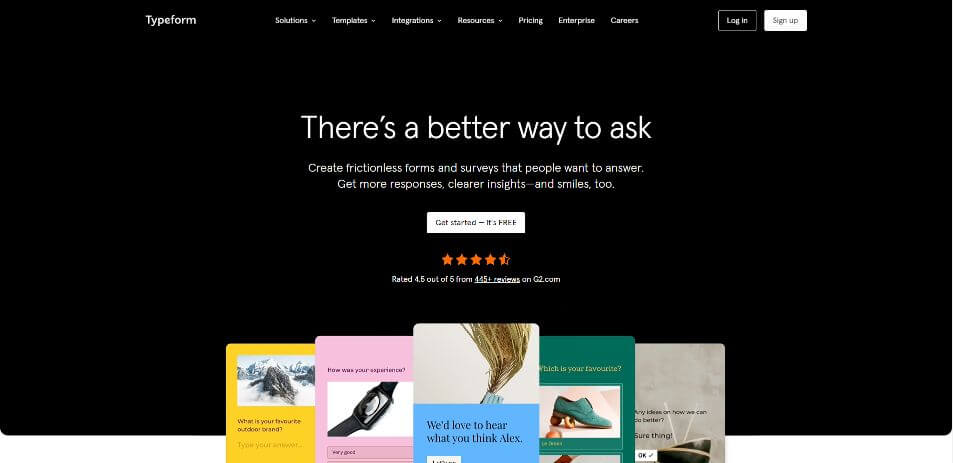 The Typeform platform is great for customer and user surveys, and also allows you to create a form that looks like an interactive presentation and that contains a lot of interesting effects, such as background styles, micro animations, and much more. However, we can say that Typeform is a bit unique among online form creation software tools.
Note: If you want a simple yet interesting user experience, the Typeform tool might be a good option for you.
Price: Free (Premium Typeform plans start at $25 per month)
Paperform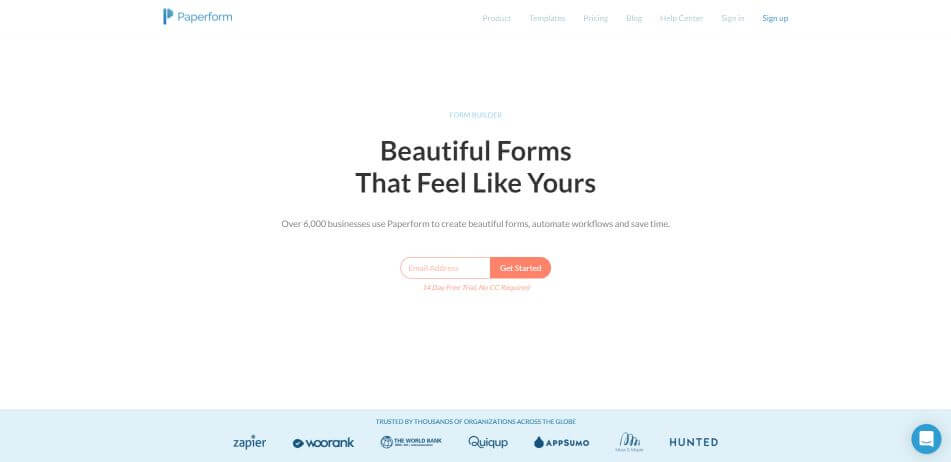 Paperform tool is one of the foremost commonly used online form builders. Using it, you can create intuitive forms for your website with ease. However, it wouldn't be just online patterns – instead, you can create interactive patterns with pictures, videos, and more.
Note: With a focus on customization, Paperform may be a great solution for creating beautiful and advanced shapes that suit your specific needs.
Price: Free trial available (Essentials plan starts at $20 per month)
Expect Something New From Inkyy in 2022
As we have reached the very end of this article and we hope that we have managed to help you and that you have learned something new, or renewed your knowledge and refreshed a little.
Either way, keep in mind that form builder tool options are endless, so you have nothing to worry about.
Also, we would like to announce that we are preparing something very different in 2022 for you and we know that you will enjoy it.
So, keep on reading our blog posts for regular updates, and we will make sure to inform you from time to time about our new project that will help your business like non-other before.
But for now, from all of us from Inkyy Web Design & Branding studio, we wish you a Merry Christmas and a Happy New Year.
Enjoy the holidays.