One of the most difficult things for many business owners is launching new websites. There are many important things to consider when choosing a web design studio for your company.
Many business owners are wise enough to know how to leave some things to professionals. Choosing a proper design company to take your business to next level is of most importance.
Choosing the right web design studio can often lead to a significant boost to your business success.
In the end, your website will be the first thing that many potential customers will see. Depending on the design of your website, impressions will differ. Website is the face of your company in many situations and is the best generator you have.
Your website will be the driving force behind people deciding to do business with you or your competitors.
Qualities of a Good Web Design Studio
This is the 21st century and one thing that our modern era can characterize is choice. We have an unlimited offer of choices in all areas of demand. This applies to web design companies too.
This will help you shortlist web design studios that are more likely to be compatible with you or your business.
Some of those vital features you can look for to choose the right web design company for your business are mentioned below:
Experience
Only experienced web design companies can find and solve problems that occur in ongoing projects. Solving mistakes and making quick decisions requires experience.
However, this does not mean that a company that does not have much experience could not cope with what you need.
When you make a shortlist of companies try to take into considaration a number of different elements together.
Variety of Services
A good web development company always offers a wide range of services to its clients. For all your web design needs, a highly professional web design studio will have services.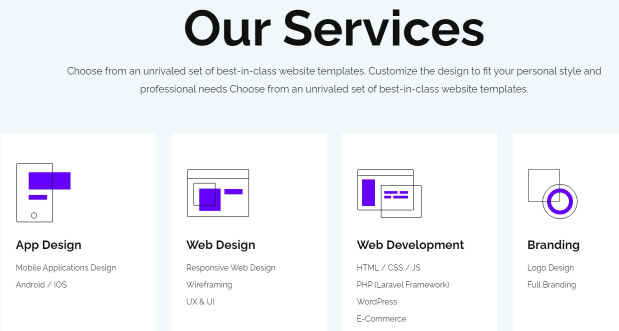 It is further noted that in addition to offering a range of services, good web design companies also often specialize in certain domains.
It is a good idea to include companies that specialize in enjoying the services you need.
Good Cooperation
A professional web design company is always committed to its deadlines and continuously communicates with the client.
It also solves client problems in the shortest possible time to complete a task within a given time frame.
The two biggest characteristics of all large companies are the care for all their customers and the ability to maintain long-term relationships.
These are some of the most important features you should consider when finding the right vendor to develop your project.
A Sense of Good SEO Design
SEO plays a very important role in exposing any business or company to new opportunities or customers. Almost more than 94% of all online experiences start with a simple search.
This fact points to a scenario in which, if one focuses on SEO, significant benefits can be seen in the business.
So, to attract a large number of customers to your website in the future, you need to develop a website that will keep in mind the SEO guidelines from the beginning.
Tips For Finding The Best Web Design Studio
In this section, the focus will be on understanding the tips to follow to find the best web design studio:
Think About Compatibility
It is a well-known fact that working with like-minded people is always easier than working with people with whom you could have constant disagreements.
Consider this advice while trying to hire a web design company to start, try to choose a company that fits the value of your business.
This is because you will be working with that company for a long time, so considering compatibility is a very important step.
Read Their Portfolio
It's always great to have opportunities.
Therefore, you should make a shortlist from as many portfolios as possible.
In this regard, you should always remember that it may not be possible for you to meet with every representative of the company for which you are shortlisted.
The next best thing would be to read the portfolio on each company's website. Try to examine all the details and be careful not to skip anything, it will allow you an informed choice.
Consider The Level of Support You Need
Different websites require different levels of support. Depending on your project, you may need a web design company that can provide you with regular and frequent support, or you may only need company services occasionally.
You should first consider your needs. After that, decide on a company that can provide the level of support you need.
Make Sure the Development Team Understands Your Needs
It is always important to keep in mind that a company that understands your requirements and can respond quickly to ideas is the ideal solution in most situations. Ask the right questions early to get the feeling that the design team is on the same page.
Get Feedback from Company's Previous Clients
Customers or clients make up a very important part of any business, and if a company or organization has a great relationship with all of its previous clients, it shows that the company cares about its customers and would show that same concern in other aspects as well. You can contact previous clients of the company and get feedback.
Explore Their Social Media Presence
In this digital age, social media plays a vital role as they work to manage the reputation of a person or organization.
A company with a strong online presence is more reliable because they are confident enough to show their talents. This would also allow you to look at the reviews or testimonials the company has received in the past, and make a better decision.
All of the above are features that adorn Inkyy Web Design & Branding Studio. Feel free to contact us and we will fulfill all your wishes related to the design, website and online presentation of your business.