What if you could have access to an endless stream of professional design work for a flat monthly fee? Imagine being able to request as many logos, website front-ends, social media graphics, and other designs without worrying about extra costs. It sounds too good to be true, right? Well, it's not. Introducing the solution to your design woes: best unlimited graphic design services.
These services offer exactly what the name suggests: unlimited designs for a flat monthly fee. No more worrying about going over budget or waiting for your in-house designer to catch up with your workload.
So get ready to say goodbye to design stress and hello to unlimited design possibilities. We're going to introduce you to the 7 best unlimited graphic design services that will grant all your design wishes.
7 Best Unlimited Graphic Design Services
In the following list, we have curated some of the best companies that excel in unlimited design services and explained why they stand out. Let's get into it.
1. Inkyy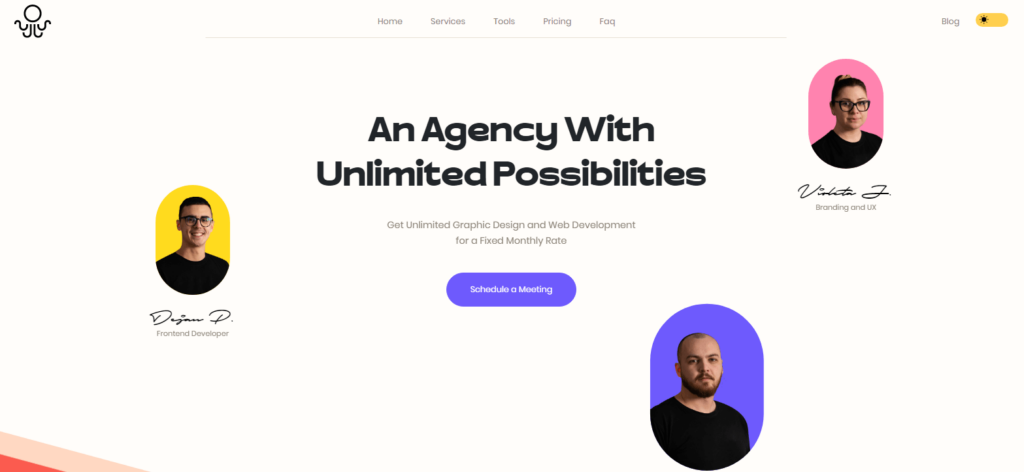 Inkyy is more than just a design agency – it's a team of dedicated professionals who are passionate about helping businesses stand out from the crowd. Founded in 2015 by Bojan Sandic, Inkyy has quickly established itself as a leader in the industry, with a focus on providing top-quality design services to clients of all sizes.
Inkyy has worked with clients of all sizes and industries, creating stunning visuals and captivating content that boost their brand identity. Whether you need a logo, a website, a brochure, or anything in between, Inkyy has the skills and the tools to deliver.
Inkyy has worked with some of the biggest names in the market, such as ASUS, 99bitcoins, and ResumeCats. They have also completed over 5000 projects, each one showcasing their high standards and meticulous work.
With a portfolio of impressive work and a reputation for excellence, Inkyy is the go-to choice for businesses seeking professional and engaging design services. Trust them to bring your brand to life with their passion, creativity, and expertise.
Services:
With Inkyy's unlimited design services plan, you can enjoy a wide range of services that will make your brand stand out. Here are a few:
Web Design
UI and UX
Branding
App Design
Wireframes
Brand Guides
Business Cards
Blog Graphics
Digital Ads
Icons
Infographics
and anything else you can think of!
Reviews and Rating:
With a Trustpilot rating of 4.6/5, Inkyy has proven its excellence and expertise in video design and unlimited design services. Their satisfied clients have spoken, and the reviews speak volumes about the quality of service and design offered by Inkyy.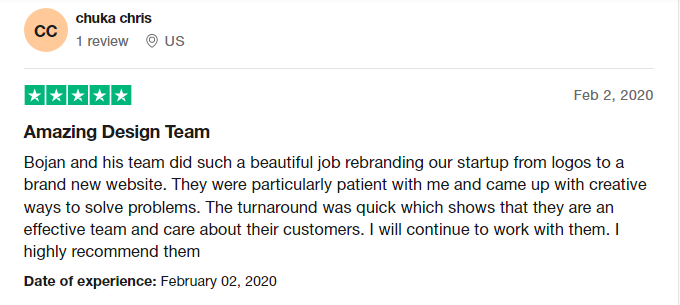 Pricing Plan:
Inkyy charges a flat fee of $2,480/month for unlimited design services. There are no additional charges for extra team members and brands.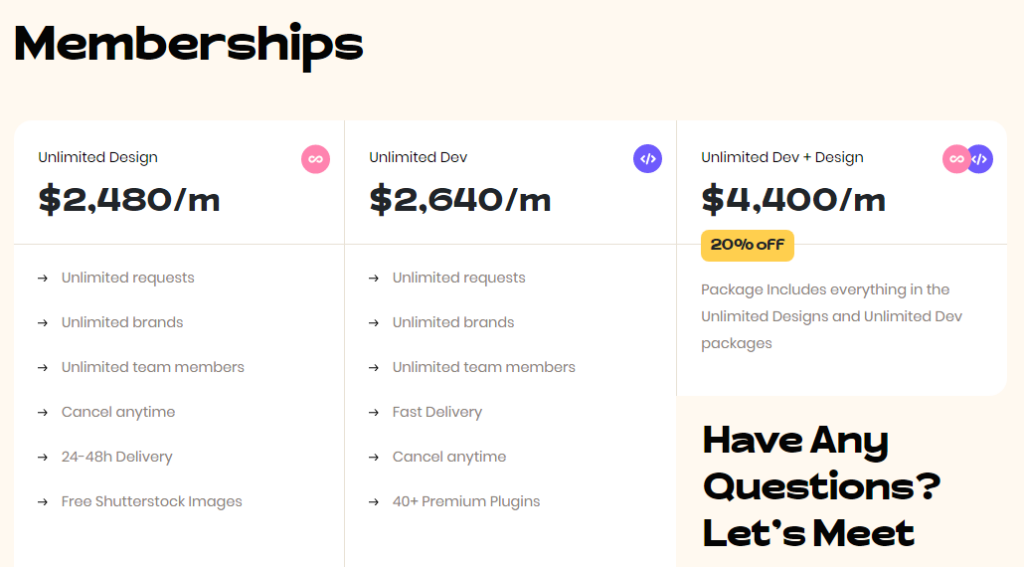 2. KIMP: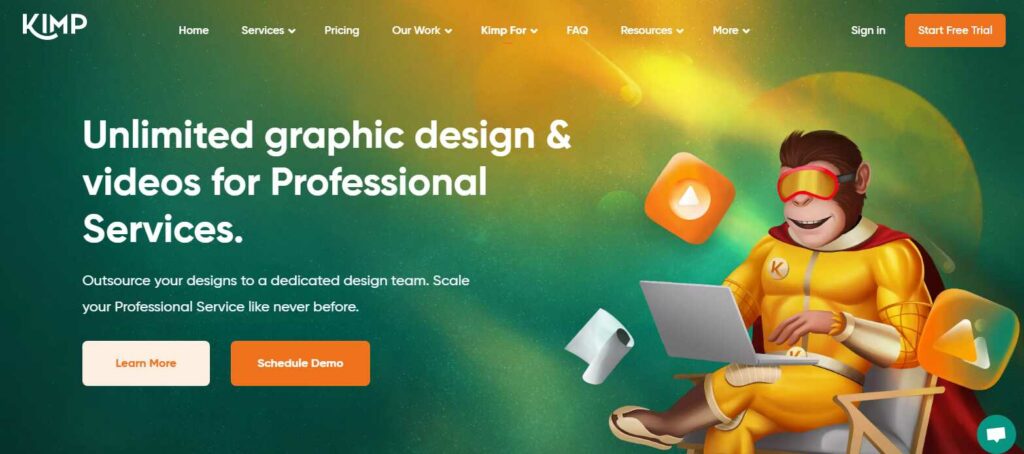 Kimp is an exceptional design company that provides unlimited graphic and video design services. Kimp's approach to delivering value is centered around providing a dedicated team of 3 graphic designers and a manager to handle all their clients' design needs.
Kimp's team of graphic designers is highly skilled and brings a wealth of experience to the table. And with their impressive turnaround time, clients can expect to receive 2-3 designs every business day, which is twice the output of their competitors.
Services:
Kimp mainly provides services in graphics and video editing. Others are:
Amazon Graphics
Advanced Infographics
Basic GIFs
Business Reports
Characters & Mascots
Company Profiles
Book Covers
Logos
Magazine & Newspaper Ads
TrustPilot Rating:
The Trustpilot rating for Kimp is 4.9/5.
Pricing Plan:
KIMP offers 3 pricing plans.
Graphics Subscription:
Regular price: $599/month.
50% off for the first two months: $299.50
(Unlimited team members with 2 active projects at a time and 24 hours TAT)
Video Subscription:
Regular price:$699/month
50% off for the first two-months:$349.50
(Unlimited team members with 2 active projects at a time and 2-4 TAT)
Graphics and Video Subscription:
Regular price:$995/month
50% off for the first two months: $497.50
(Unlimited team members with 4 active projects at a time and 24 TAT for graphics)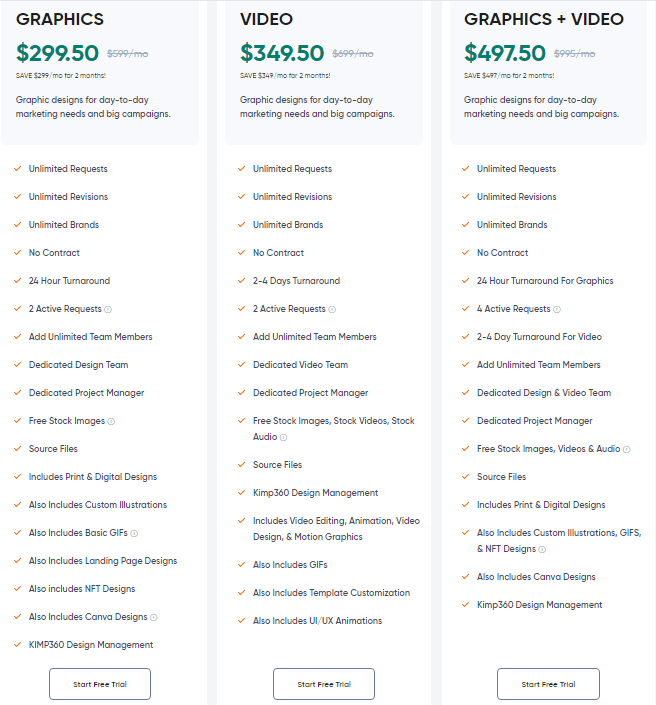 3. ManyPixels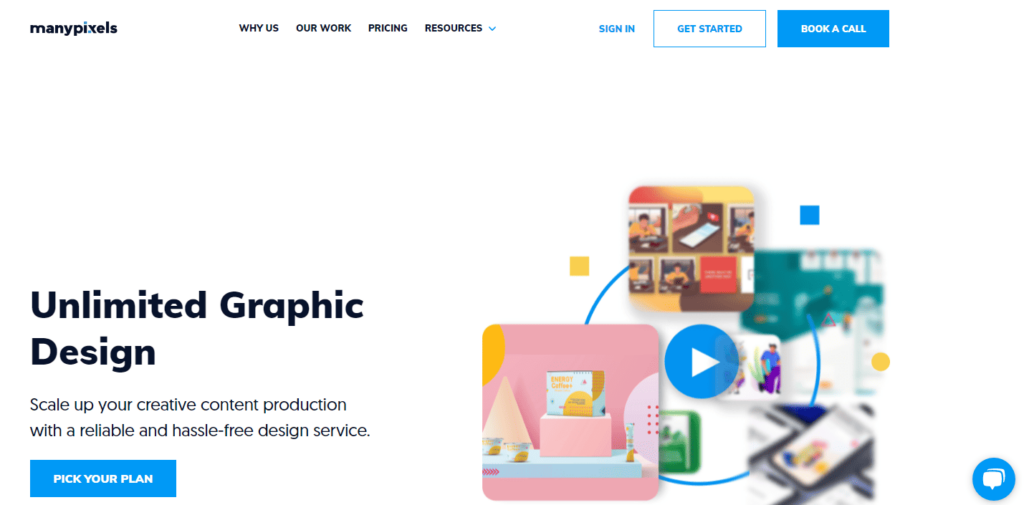 Manypixels is a creative powerhouse that has been in the business since 2018, carving a name for itself with an impressive client base of over 3,000. The team has invested an astonishing 1.7 million man-hours into their work, tirelessly designing unique and exceptional content. Their portfolio boasts over 150,000 one-of-a-kind creations, showcasing their incredible artistic talent.
Services:
ManyPixels provides diverse services, including
Illustration
Web and app design
Landing and report pages
Icons podcasts
E-commerce graphics
Logos
Brandings
Flayers
GIFs
Trustpilot Rating:
The TrustPilot rating of ManyPixels is 4.8/5.
Pricing Plan:
They provide monthly, quarterly, yearly, or bi-annual subscription methods, which are categorized into:
Advanced: $549/month (1 daily output in all design services and 1-2 days TAT)
Business: $899/month (2 daily outputs in all design services and 1-2 days TAT)
Designated designer: $1199/month (Designated designer with same-day delivery in all designing services)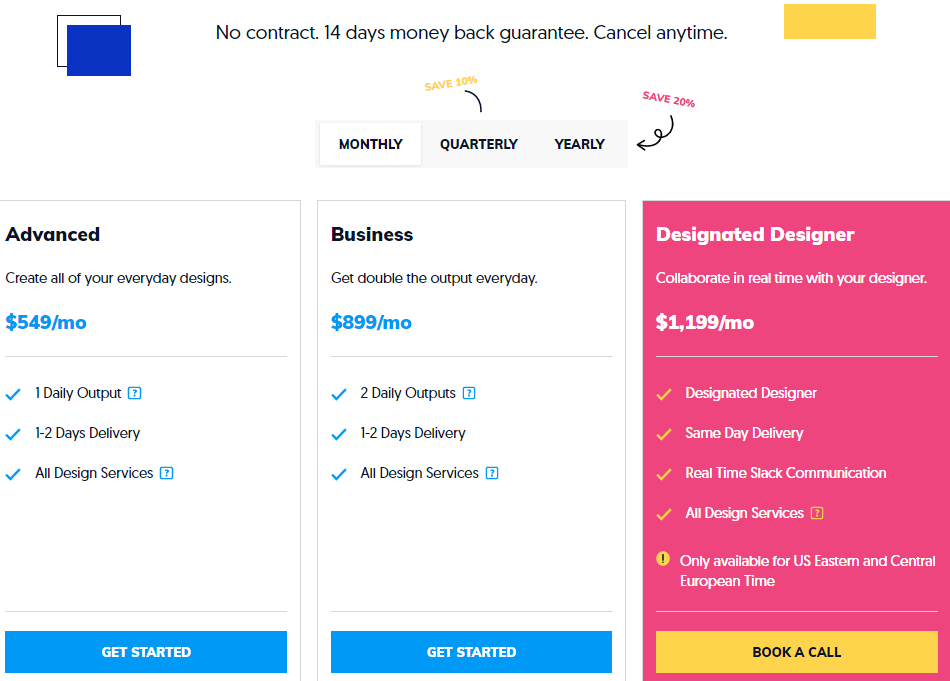 4. Penji: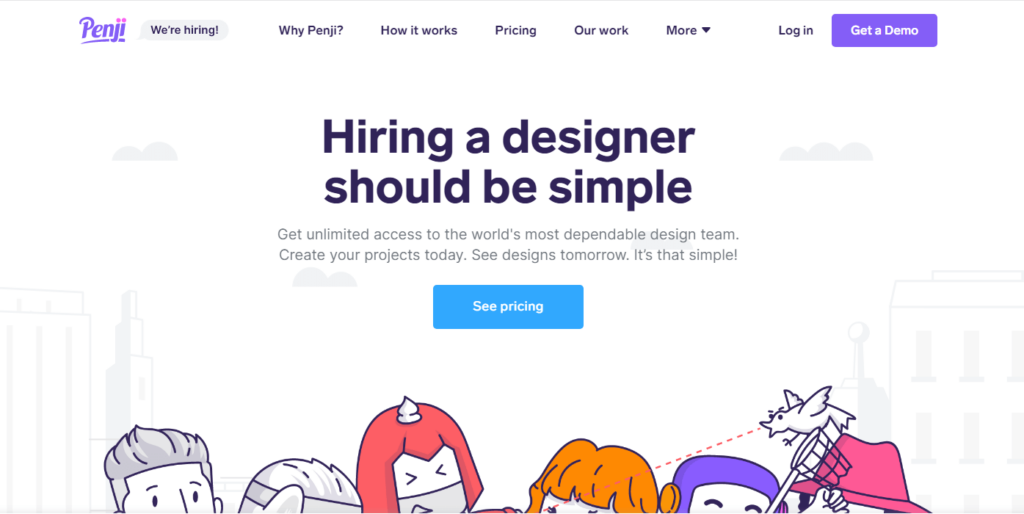 Penji is one of the leading companies in niche design. Their drafts and samples are proof of it. They understand your struggles and value you by making an immediate connection through daytime support. Not only that, their staff provides quick and favorable responses.
If you need some visual flair for a project, look no further than Penji, a web-based graphic design service. It's easy to check in, check out, and order a design. If you don't like the design and want to change it, Penji offers endless revisions.
Services:
The services of Penji include
Illustrations
Social media pages
T-shirts to sell online
Print materials
Apps
Infographics
Websites
Logos
TrustPilot Rating:
The TrustPilot rating for Penji is 4.4/5.
Pricing Plan:
The pricing plan is divided into 3 categories:
Pro: $499/month (limitation of only 2 brands)
Team: $997 (unlimited brands and a project manager)
Agency: $1995 (same-day delivery and priority support)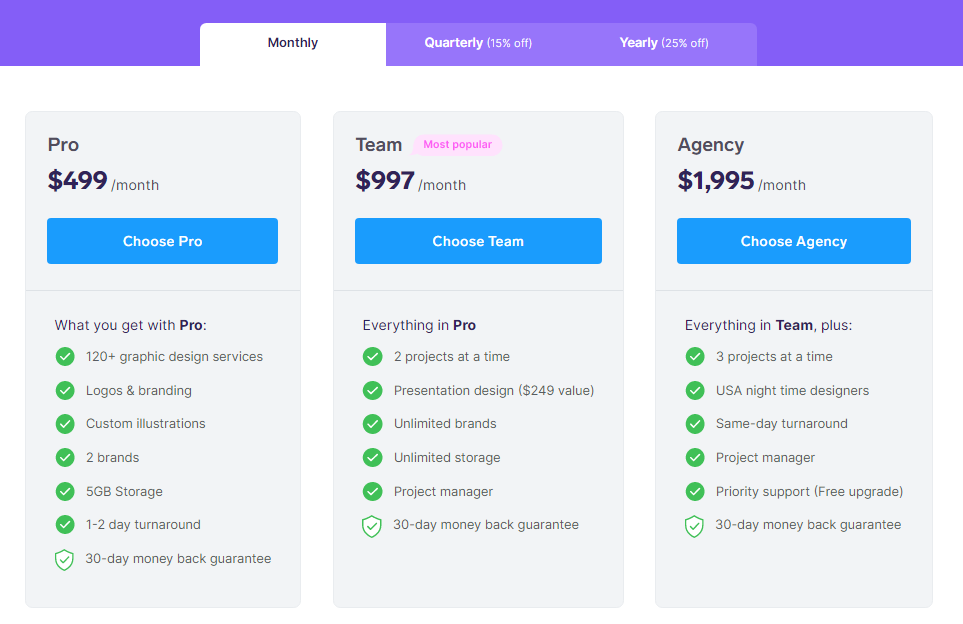 5. Design Pickle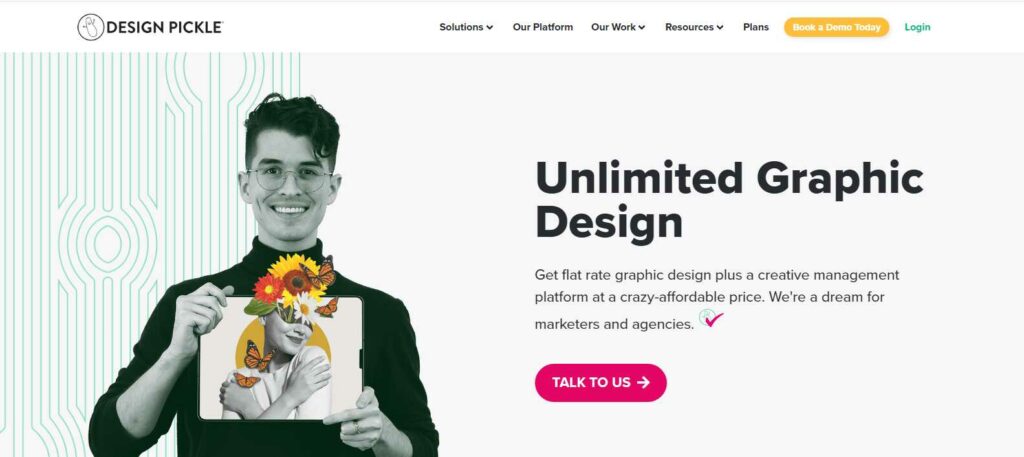 Design Pickle is a powerful player in the game. Their output quality is outstanding, and they work quickly, including completing unlimited requests within 24 hours. Excellent customer service and escalation procedures with designers who are warm and upbeat.
DesignPickle is an all-in-one creative services business powered by custom technology. Their graphic work is top-notch, and they can provide any company with original material at a price that fits their budget. Their customer service and teamwork ethic are outstanding.
Services:
They are top-notch at providing:
Swag and promotional materials,
Vehicle wraps
Business cards
Clothing design
T-shirts
Social media graphics
Infographics
Illustrations
Web design
Landing pages
Mobile apps
TrustPilot Rating:
The TrustPilot rating for Penji is 4.1/5.
Pricing Plan:
Their pricing plan varies in:
Graphics: $499/month (only graphic design with custom illustration)
Graphics Pro: $995/month (graphic and presentation design with custom illustration and same TAT)
Graphic Premium: $1695 per month. (Everything in Graphic and Graphic Pro with Canva File Delivery)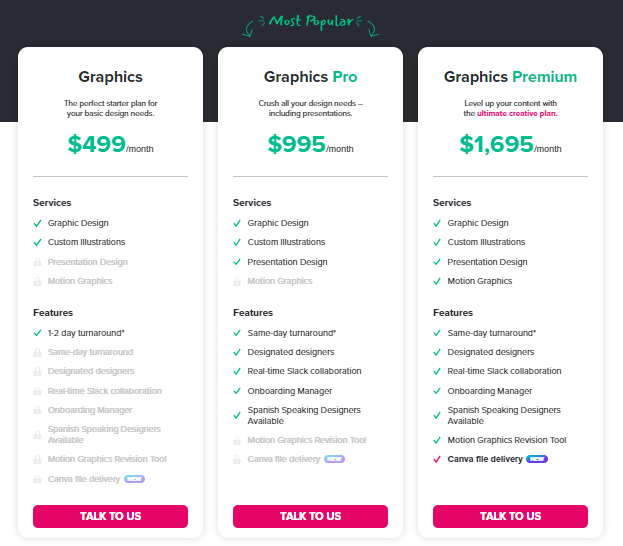 6. Graphically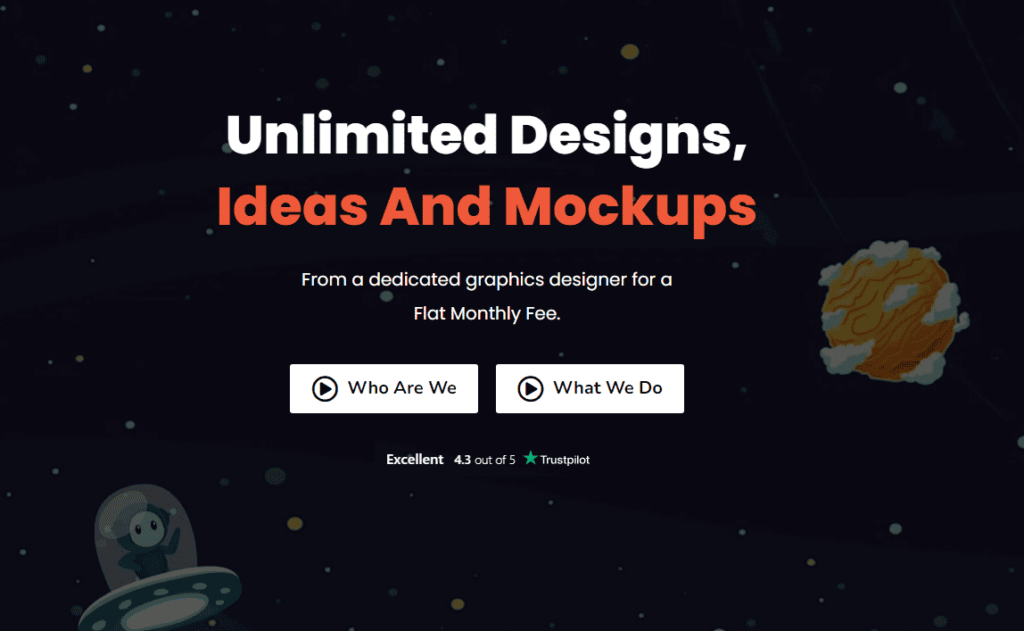 Graphically is the low-cost alternative for individual blog owners or small businesses seeking relatively simple and affordable design work. It is unique in that it is one of the few providers that offers a whiteboard animation film design process.
In terms of graphic design, they provide full service, from brainstorming to the final product. As leaders in their field, Graphically pays close attention to changes and new developments in the field of communication arts, such as new branding trends, and offers their customers the ultimate solution.
Services:
The outstanding services that Graphically provides are:
Design Logos
Favicon Design
Display Ads Design
Event Flyer Design
Social media creative design
Brochure Design
Banner design, and much more
Trustpilot Rating:
The TrustPilot rating for Penji is 4.3/5.
Pricing Plan:
The pricing plan consists of:
Standard:$299/month (with unlimited task-1 tasks at a time, and 24-36 hour delivery)
Premium: $349/month (unlimited access to everything with three tasks at a time)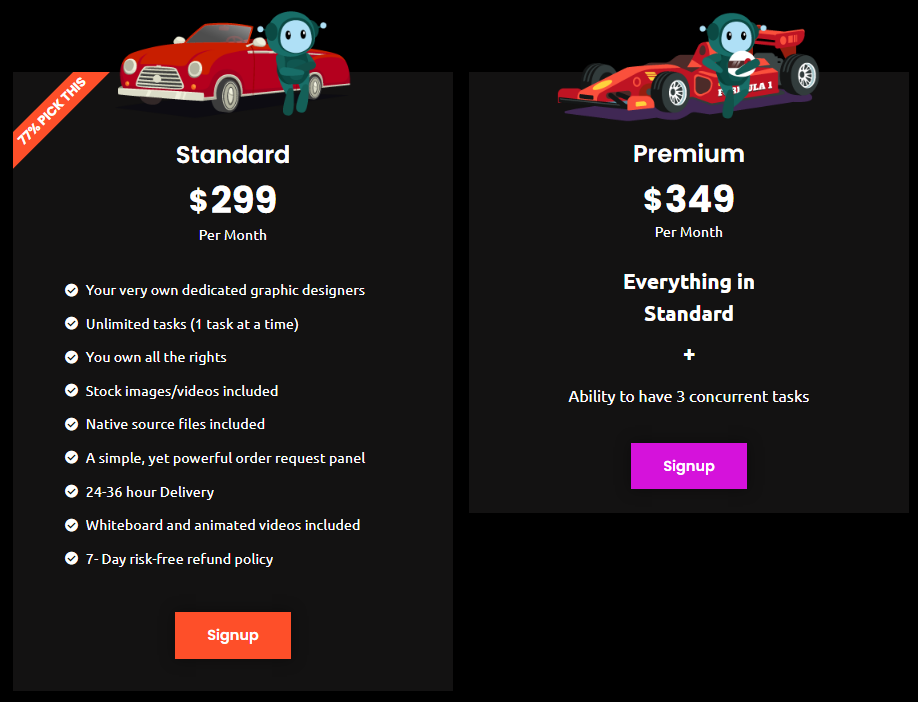 DotYeti:
With an intuitive platform and a flat-rate subscription model, getting high-quality designs has never been easier or more affordable. The talented team at Dot Yeti can quickly provide you with unlimited designs, hassle-free, and delivered directly to your inbox.
Moreover, one unique feature of Dot Yeti is their provision of 2-3 general design choices for illustrations on the first request. This makes it easy for businesses to choose a design direction that aligns with their brand and project goals. And Dot Yeti takes things one step further by offering a 14-day money-back guarantee for added peace of mind.
Services:
Their unique services contain
Art & Illustration
Branding
Animations and GIFs
Landing Page Redesign – Focus on CRO
Social media content
NFT artwork and print
Trustpilot Rating:
The TrustPilot rating of DotYeti is 4.5/5.
Pricing Plan:
The pricing plan of DotYeti is divided into 3 categories:
Basic: $499/month. (1 project at a time with 1 brand profile and unlimited design requests)
Premium: $1145/month (hand-drawn illustrations with 2 projects at a time, 2 brand profiles, and unlimited requests)
Royal subscriptions: $2395/month. (Everything in basic and premium plan with 2 active projects and backlogs)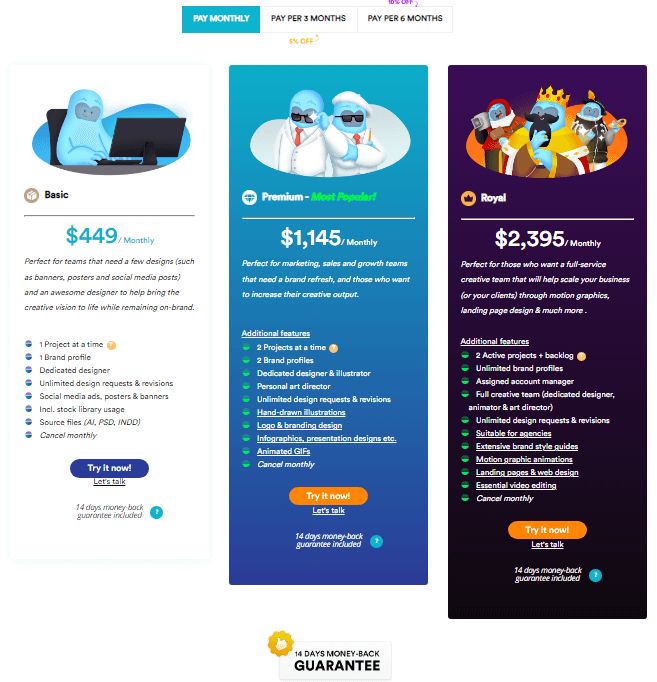 What is Unlimited Design Service?
Unlimited design service is a subscription-based service where you pay a monthly fee and may ask to create an endless number of designs for your project. This allows you to seize the opportunity to develop whole new marketing campaigns.
Once you sign up for an unlimited design service, you'll be connected with a dedicated designer who will work with you on your design requests. You can submit as many design requests as you need, and your designer will work on them until you're satisfied.
Unlimited web design services are ideal for businesses that require new design materials frequently and need long-term relationships with their designers.
Benefits of Unlimited Design Services
Unlimited design services provide numerous benefits as compared to design agencies and freelancers. Here are a few:
Cost-effective:
Unlimited design services allow businesses to get a wide range of design services at a fixed monthly cost. This means that they can get as much work done as they need without worrying about additional costs.
Consistent branding:
By using the same design team for all their projects, businesses can ensure that their branding remains consistent across all channels.
Faster turnaround time:
Unlimited design services typically come with a quick turnaround time, allowing businesses to get their designs done faster. This is particularly useful when businesses need designs urgently.
Factors to Consider When Choosing an Unlimited Design Service
There are some things you must check out when buying a subscription to an unlimited design service. Doing this will help you choose the best unlimited graphic design services and avoid hassles down the road.
Services offered:
Before selecting the company, check out their services to see whether they provide the work you're looking for.
Customer Services:
Having 24/7 customer support shows the dedication of the company to its users. It also ensures timely assistance and support for any design-related issues that may arise.
SaaS integration:
You must consider SaaS integration when purchasing a design package to streamline your communication and transport of files.
Industry experience:
Experience always plays a key role. Check out their portfolio and go through their reviews to validate their experience and expertise.
Turnaround time:
In this fast-paced world, you can't afford to wait for weeks to get your designs. Go for a company that has a turnaround time of less than 3 days.
Dedicated designers:
Having dedicated designers on your side helps to maintain a consistent brand identity. It will also result in faster TAT and quality design output.
Frequently Asked Questions
How much do unlimited design services cost?
Unlimited design services typically cost between $500 to $3000 per month. However, it's important to choose a plan that fits your needs and budget, as higher-priced plans may offer better quality and more features.
How do unlimited design services work?
On signup, you're connected with a designer who will work on your requests until you're satisfied. While not all services provide a dedicated designer, most allow for unlimited design requests and revisions until the final product meets your expectations.
When should I use unlimited design services?
You should use unlimited design services when you need ongoing design support for your business but don't want to hire a full-time designer or work with a traditional design agency.