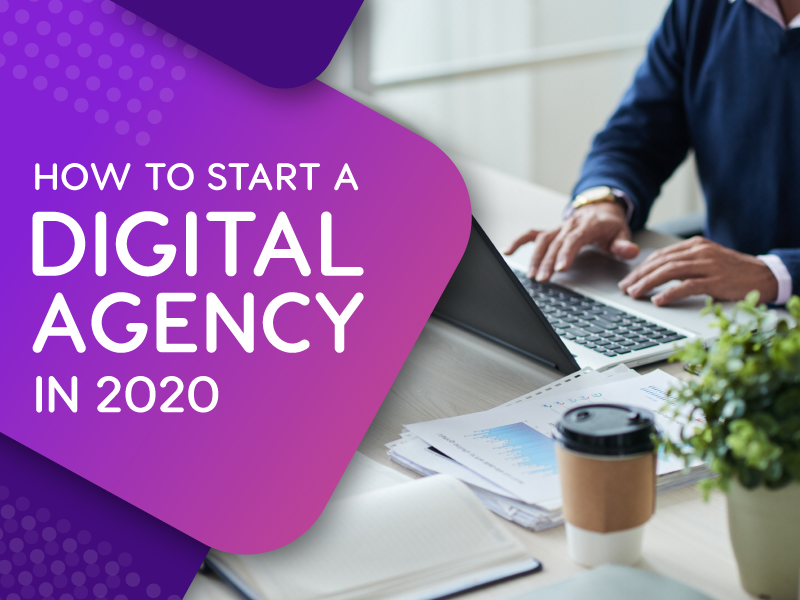 Tutorial
How to Successfully Start a Digital Agency in 2020
What is a digital agency?
A digital agency is an advertising agency that utilizes new technology and marketing methods. It helps businesses adapt and thrive in the ever-changing world of marketing today.
Traditional or creative agencies mainly focus and offer more conventional ways of marketing like print, public relations, television, and radio advertising.
Digital agencies take a more modern approach. These agencies concentrate on bringing and establishing brands in the online world.
Exclusively digital marketing methods like SEO, UI/UX design, Social Media Marketing, etc. arguably bring much more tangible results.
These agencies can easily measure and evaluate the impact they have on your business.
Unlike some of the traditional forms of marketing, you will have direct insight into how effective is each of the marketing channels you use.
With that, your marketing will be much more flexible. You can make a real investment in channels that are bringing the best results.
How do you start a digital marketing agency in 2020?
It is essential for a digital agency to be aware and know almost every method in the digital marketing world.
However, the best practice is to specialize in one or two areas in which you have the most knowledge and experience.
You don't need to be an expert on everything. Still, you should have an above-average knowledge about each of the services below.
1. Decide on a Service to Offer

Here is a list of the most popular services you can offer:
Web Design
Front End Development
Branding
SEO
Graphic Design
Social Marketing
Writing & Translation
Video & Animation
2. Purchase Your Domain Name and Hosting
How to select your domain name?
One of the hardest parts of starting a business for many aspiring entrepreneurs is choosing a domain name. And you must get this part right!
You need to find a domain name with these qualities:
1. Makes a great first impression:
2. It is relatively easy to brand
3. It is easy to memorize
4. Preferably has a .com extension
You can search for available names and register your own domain name through websites like namecheap.com or godaddy.com
Premium domains are more expensive for a reason. Still, you will have to put in the same amount of work to make any success.

Once you register your domain, it is time to purchase hosting.
For a start, even a basic, shared hosting can work.
Remember, you can always transfer to a better package or a completely different company.

Here is a list of some of the best hosting providers currently:
DreamHost.
Bluehost.
A2 Hosting.
HostGator.
InMotion Hosting.
MochaHost.
Web Hosting Hub.
BigCommerce.
Siteground
3. Establish your Online Presence
a) Logo Design
As you might have heard before, the logo is a foundation of your brand.
That is particularly true for a digital agency. Everyone will expect you to have an exceptional, contemporary logo.
If you offer logo design as a service, that is one reason more to get this step right.
Research the competition and companies that you admire. To stand out, you should strive to have a better designed and more recognizable logo.
Take a look at the work from famous designers on websites like dribbble.com to get you inspired.
You should have a general idea about what you are after before starting the logo design projects.

Here are some of the options you have:
Logo Design Contents

Websites like 99Design allow you to receive logo design drafts from multiple designers. The benefits of this option are that you will most likely receive the most design concepts for the price. You can make a contest for around $400.
However, the quality of all of the concepts can be questionable.

Hire a freelancer

Websites like Fiverr and Upwork are the most obvious choices for this method.
You can receive a logo for as low as $5 or as high as $1 000.
Quality and creativity are dependent on the price. There are exceptions, of course. Take a closer look at the designers' portfolio and customer reviews.

Hire an agency

The most cost-effective, and hands-free solution for you would be to hire a specialized branding and logo design agency.
In most cases, the project will go smoothly, from the initial brief to the final design. Best of all is that you don't need to be as engaged like in the other methods.

Agencies like Inkyy offer professional logo design for as low as $50 per concept. Make sure the project includes source files that you can use in later stages.

Logo generator

We do not recommend using this method in any scenario. You will receive subpar results, with an extremely generic logo.
One exception would be to test some of the ideas you have before you contact the designer or an agency.

Logo generators are not free, and you might need to get back and pay up to $50 for source files.
b) Website Design
Once you settle down on the final logo design, you should look toward designing your website.
You should already have a general idea about the general style, colors, fonts, etc. that will make up your brand.
Similar to the logo, your website should stand out as well.
However, you can't just design a weird looking page that will grab some attention and wear out in a couple of days.
Make sure you stand out for all the right reasons. Hire someone, (us for example) to create a fully custom design, original illustrations, and animations.
Carefully approach both the visual and user experience aspects of the design.

For inspiration, you can visit websites like dribbble.com that features work from most of the best designers in the world.
Check out https://dribbble.com/inkyy and contact us if you need any help with this.
c) Website Development
You don't have to be a full-stack front end developer to create a fully functional website.
'Drag and Drop' builders are getting more advanced, and you can easily mock up a website without any coding knowledge.

Additionally, CMS solutions like WordPress are fairly easy to install, use and customize. There is a plugin for almost anything.

The downside is that you might easily end up with too much overhead and a slow loading website.

Ideally, you or someone in your team is an experienced front end developer.

You might want to outsource this part of the project as well if that isn't the case.
4. Portfolio and partnership
It's perfect if you already have a portfolio or even case studies related to your work.
But, what happens if you don't have anything to show yet?
The first thing you will have to do is connect with freelancers, teams, or companies that already offer the same or similar services to you.
Hopefully, you will be able to partner up with companies like Inkyy.

Most likely, you will be able to lend a few pieces for your portfolio free of charge. One of the most common conditions is that you will need to outsource all of the actual work to them.
Once you have a bigger and better network of partners, you will be able to take on more work.
The main goal is for you to have enough confidence in them so you can freely focus on acquiring new leads.
5. Setting up your Prices

Before you are ready to take on new projects, you need to have a clear price list.
Depending on the nature of the service you will have to choose between one of the following models.
Hourly
Flat price
Commission-based pricing
Percentage of spend
Here are the most common methods of payment:
Make sure you factor in all the expenses, taxes, etc. and come up with the price that will keep you profitable.
If you are outsourcing any stage of the work, factor in how much they charge as well. As you gain experience, you will have a better idea of the balance between quality work and price.
Don't be afraid to ask for a better deal, especially once your partnerships begin to progress.
Be ready to adapt quickly and raise your prices as necessary.
6. Lead Generation
Our guide up to now has walked you through everything you need to get your digital agency up and running.
The 'only' thing now is to make a profit.
Before you start taking on new customers, make sure your workflow is flawless.
Quality of your service, client satisfaction, and ultimately results that you produce will be the number one thing that measures your success.
Along with bringing new clients, it is critical to retain your current clients.
Focus on bringing outstanding results consistently, without exceptions. Build genuine relationships with people that already trust in your work, and your business will flourish.
Methods to get more inbound leads for your digital agency
Finding new leads is never easy. Finding the right type of clients you enjoy working with is even harder.
Here are some of the methods to get you started:
Use your personal network
Contact local businesses
Focus on SEO to drive organic traffic from search engines
Content Marketing
Pay-per-Click (PPC) advertising
Social Media Marketing
Email Marketing (Cold Email)
Research and test out each of the methods above. Work on creating a bulletproof lead generation strategy.